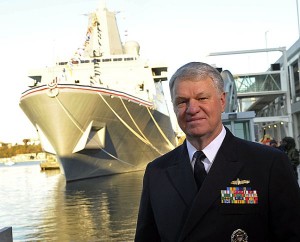 Rhetoric supporting the new carrier launch system, EMALS, was on full display during CNO Roughead's March 11 testimony before the House Appropriations Subcommittee on Defense. He said:
"…Among the new technologies being integrated in these ships is the Electromagnetic Aircraft Launch System (EMALS), which will enable the carrier's increased sortie generation rate and lower total ownership costs. EMALS is on track for an aircraft demonstration later this year and is on schedule to support delivery of CVN 78 in September 2015…"
But, according to Inside Defense (subscription required), reality, in the form of a question from Rep. Norman Dicks (D-WA), forced SECNAV Mabus to confirm that the EMALs program had experienced an ugly test failure. What happened, exactly? This:
"…According to a Navy official, on Jan. 12 during a test at Joint Base M

cGuire-Dix-Lakehurst , NJ, the shuttle was commanded to move forward 10 meters, but instead reversed direction and slammed into the catapult's deck tensioner, causing damage to the system's hardware. Damage to the armature and the tensioner was non-reparable, though a motor block and the end of the system's trough, which also suffered damage, were salvageable. There were no injuries…"
Yike!  But, never fear, they tell me this high-profile program is all still on schedule.  Right?
Right?
I like EMALS, and I love this sort of high-profile challenge…and good poker games, too.
But…where's the hedge?  Did we start production of the Next-Gen Ford-class too early?  If America needs to start figuring out how many MV-22s fit on the new LHA(N) amphibian, isn't that something policymakers should know and discuss?  And if the money that EMALS will, in theory, save (via reduced wear and tear, lower manning and so forth) gets eaten up by developmental costs and reliability SNAFUs, then, shouldn't there be a debate on the strategic (and/or tactical) merits of this system?
Is a higher sortie generation rate and consistent high-power cat shots THAT important?