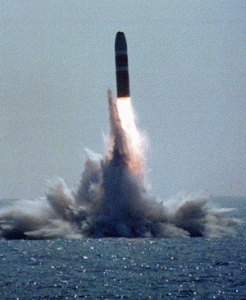 So, it seems the (estimated) 131st consecutive successful Trident test flight went off in an epic fashion! In Saudi!
That's…unprecedented.
(UPDATE: Looks like the story is getting walked back a bit…the AP's source, "A Western military official in Saudi Arabia" is being contradicted by Pentagon spokespersons–who say there was no launch of any kind.)
How, exactly, does one test a "submarine-launched ballistic missile" from Saudi territory?
"The United States test-fired a submarine-launched ballistic missile capable of carrying nuclear

warheads during a joint military exercise Wednesday with Saudi Arabia, a Western military official said.

The Trident missile launch was carried out in the kingdom, the official said, but he would not give a precise location. He spoke on condition of anonymity because of the sensitivity of the issue."
Fired from a land-sharkesque Sand Sub?  Did we ship a missile over for a launch from a Saudi facility?  Or fire it from a sub elsewhere?  I mean, while this may explain why some Tehran IP add
resses have been, ah, oh,  rather avid consumers of this blog, I really wonder what is going on here.
What an odd story….If launched from the Saudi's sandy seas, then…I must ask: Do we really want to export this kind of strike platform?  There?
Really?
If true, we need to know more. A lot more. Did America conduct an unprecedented launch….for a missile defense test?  Or is this the new face of Prompt Global Strike (Which I wrote about in April's USNI Proceedings)?  Have Tridents ever been launched in that part of the world?
Hmm.
In other news, President Obama, on March 29, welcomed the new Chinese Ambassador:
"During their meeting, the President stated his determination to further develop a positive relationship with China.  He reaffirmed our one China policy and our support for the efforts made by Beijing and Taipei to reduce friction across the Taiwan Strait.  The President also stressed the need for the United States and China to work together and with the international community on critical global issues including nonproliferation…"
Hmm.  Hey, now, just what are they testing, again?
H/T: Warisboring