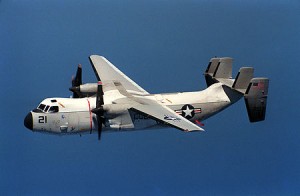 It looks like the Navy is getting an UAV mid-air tanker. That's great–it forces the Navy to really incorporate a UAV into the daily grind of carrier operations. It's the fastest route to UAV normalization, and it offers a spiral route to something far more interesting.
The little kid in me would have have loved to have seen something more ambitious. A high-end stealthy strike UAV would have been a fantastic super-tech stretch goal, but, if approved for procurement, the program was destined to become the "Son of F-35", too bloody expensive to field. A competing idea, designing and fielding a lower-end light-strike UAV ISR platform, was viable, but that simple program would have ended up strangling the thriving ISR/light strike niche–an area of real innovation in the fleet.
A no-frills UAV tanker is a perfect middle ground.
Interestingly enough, I proposed something similar two years ago, suggesting that the Navy focus on building a UAV tanker/COD airframe. I wrote:
In my mind, while the big four work on the challenges of a high-tech UCLASS, there is ample room to develop something fast that can serve as both a heavy air freighter (Those big F-35 engines aren't going to be schlepped around by the much-ballyhooed future MV-22 CODs anytime soon!) and air-to-air tanker. It'd get a long-range, unmanned platform on a carrier–letting the carrier work out how to interact with a UAV while also getting accustomed to a longer-range platform.

It would also give the aerospace majors an opportunity to start playing–right now–in the unmanned cargo delivery space–getting FAA approvals for operations gets a whole lot easier if you've been flying off of carriers and in-and-out of bases for awhile….and for that, I'd wager the aerospace majors would pay a premium.
Looks like we're getting something similar. From the esteemed Chris Cavas at Defense News:
Enter the Carrier-Based Aerial-Refueling System, or CBARS.

Very few details are known about CBARS — some sources were familiar with the effort but not the acronym. But it seems a significant portion of the UCLASS effort will now be directed to produce a carrier-based aerial tanker, able to refuel other planes low on gas.

Defense Secretary Ash Carter could reveal the decision Tuesday morning when he's to speak about the fiscal 2017 budget submission at the Economic Club in Washington. The budget itself is scheduled to be delivered to Congress on Feb. 9.

Several sources contacted for this article confirmed the role of CBARS will be primarily tanking, "with a little ISR [intelligence, surveillance and reconnaissance]."

Strike capabilities, the sources all said, would be put off to a future version of the aircraft.
This all makes sense. Think of it as a first step in a long spiral that will get us a carrier-based long-range unmanned strike platform. Go Navy!