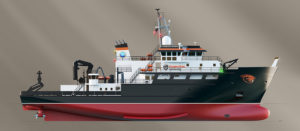 As a staunch advocate for the Navy's tug and salvage fleet, I am thrilled to see the drama-filled T-ATS(X) program head towards production (some history here). It has been a long road for this important but low-profile and oft-ignored vessel–the T-ATS(X) wallowed under multiple RFIs for years. It nearly foundered after several efforts to privatize and contract out the tug/salvage mission and barely survived misguided MSC efforts to do away with the tug-and-salvage fleet entirely.
And yet here we are–a competent "Vigor Industrial-like" diversified small-business shipyard, 'Gulf Island Shipyards LLC", announced on March 19 that it had been awarded a contract to build one T-ATS(X) with options for up to seven more, at $63.6 million dollars apiece. Sure, the price is a tad high in comparison to the average anchor-handler OSV, but I couldn't be happier.
That said, I am a little worried that we observers know next-to-nothing about the design–when the RFP came out as a small business set aside, news coverage of T-ATS(X) evaporated. We don't know if the Navy has used the information derived from  prior "Phase I" design efforts (awarded to  Bollinger Shipyards Lockport, Eastern Shipbuilding Group, Fincantieri Marine Group, and VT Halter Marine) to inform a new design or if Gulf Island has a design of it's own. And, finally, we know very little about the small business that won this valuable contract.
Gulf Island Shipyard?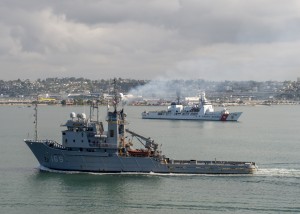 So what is Gulf Island Shipyard?  Well, Gulf Island Shipyard is actually "Gulf Island Fabrication", a diversified "oil patch" manufacturing conglomerate, with facilities in Texas and Louisiana. Unlike Gulf Island's  west coast analogue, Vigor Industrial, Gulf Island Shipyards became a publicly-traded enterprise in the '90's and has continued aggressive growth into the current downturn, taking over the LEEVAC Shipyards in 2016.
Gulf Island is hungry, and it moved fast to get some interesting projects "in-hand in a hurry". They bid for and won the Regional Class Research vessel contract, a $120 million dollar National Science Foundation-funded project for Oregon State University (picture up top) that may grow into a multi-hull buy. (For those who don't know, the Regional Class Research vessel is an ultra-quiet, stable vessel with capability to support unmanned craft–and I certainly could see a rejiggered version these growing into a really, really  interesting template for the T-ATS(X).)
And finally, Gulf Island must be able to offer pretty darn good value as they beat out low-bidders Bollinger and VT Halter in this effort. They also beat out the well-respected Dakota Creek Industries, a niche builder of fishing boats, ferries, AGORs and certain test vehicles.
The bid must have been pretty darn low, informed a bit by some in-yard desperation. I mean, it's had to have been an awfully close-run thing for the yard–on the day the T-ATS(X) "win" was announced, the yard quietly announced in an SEC note a customer (likely bankrupt OSV operator Tidewater) had pulled out of a two-ship contract. As contract cancellations go, it's pretty ugly–in a previous December '17 SEC filing, the shipyard noted that, aside from a backlog of 8 harbor tugs and the research vessel, they had "two large multi-purpose service vessels for one customer, which commenced in the first quarter of 2014 and will be completed during 2019."  So, essentially, Gulf Island has a couple of abandoned ships sitting in the yard, months from completion (frankly, the Navy should grab-em, add an alongside refueling rig, convert the drill mud holding tanks to fuel and put these suckers to good use someplace). So Gulf Island had to have been really sweating things since about May of '17.
Meanwhile, over at the Regional Class Research Vessel, a very interesting (and long silent) blog by the project manager for the vessel suggests that, well, the honeymoon between builder and buyer was, by the first "Quarterly Management Review" back in October '17, probably ending. The project manager ended his final(?) informative blog like this:
"After all this, you might think that our first QMR was nothing but slides, furtive glances, and people avoiding hard truths.  It really wasn't.  But we can do better. Honestly."
So it seems mid-level builder's reps were feeling like things were not getting off to an ideal start. And it has probably gotten worse; no shipyard weathers big labor perturbations like a "stop-work" on two big projects without impacting other projects in the yard. It's not all fun and games over at Gulf Island.
But then again, nobody entered shipbuilding for the fun. It's a serious–and often fractious–business. And government contracts are really, really hard for small "low margin" yards to absorb. Ultimately, Gulf Island Shipyard has some interesting projects in hand, and I always have a soft spot for the hungry, diversified yards that take on the challenge of assembling limited run, high-tolerance scientific craft.
So we'll see how this goes.
Conclusion:
The T-ATS(X) is probably one of the bigger "small business" set-aside contracts out there, and it'll be interesting to see how "going small" plays out.
As a long-time advocate for the T-ATS(X) platform (here and here)  I'd be upset if these useful platforms become a behind-schedule and over-budget circus. But for over $60 million dollars apiece, these utilitarian "tug and salvage" vessels had better be ready for "hard use far forward" from day one. And if they are, Gulf Island Shipyard should be permitted to build more than just eight.