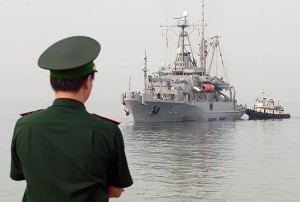 As the U.S. Navy strives to become a lean-and-mean "warfighting-first" fleet, Pentagon cost-cutters will, by FY 16, reduce the American Navy's modest rescue, salvage and tug fleet by half–and the mad warrior-accountants may even go farther, entirely eliminating the tug and salvage/rescue fleet and privatizing the whole tug and rescue/salvage mission.
Eliminating half the Military Sealift Command's (MSC) four T-ARS Safeguard Class Rescue and Salvage Ships and four tired T-ATF Powhatan Class Fleet Ocean Tugs in FY 2016 is wrong. The next step, privatization, would be a disaster–and a lost opportunity. These ships should be kept in the fleet and promptly recapitalized.
The warfighting Navy needs these hulls. Modest-sized, cost-effective utility ships are useful, in-demand assets–that cost almost nothing to operate. If they each save a single warfighter in their 30-40 year career, the tugs and salvage/rescue ships will have paid for themselves.
Recapitalization of these 30 year-old platforms would be great opportunity to leverage state-of-the-art civil-spec platforms. New hulls, offering even just a fraction of the advanced technology now available to the civilian tug and utility-vessel fleets, could be particularly useful in places like the Arctic, Antarctic and Southern Pacific, where U.S. presence assets (along with salvage platforms and rescue tugs) are in desperately short supply (unless, of course, the Navy is happy dedicating DDG and LCS hulls to non-warfighting salvage and rescue missions like, oh, the Air Asia crash).
Despite some published plans to procure replacements for both the Powhatan and Safeguard Class over the next few years (With the T-ATF(X) tug recapitalization supposedly kicking off in FY 2017, and a T-ARS recapitalization coming later), the lack of any real news on either program, coupled with the Navy's comments in the FY 15 Shipbuilding plan, suggests that privatization is a real option, as "the Navy is planning to retire two T-ATFs and two T-ARSs in FY '16 and use leased vessels if mission workload requires additional ships."
The CBO questions the Navy's commitment to the eight-hull tug and salvage/rescue fleet as well:
According to the Navy, the decision to retire those ships earlier was made in order to reduce costs. That action would leave the Navy with 2 salvage ships and 2 fleet tugs in its inventory until 2023 and 2019, respectively, when replacements enter the fleet. The decision to retire those ships early (even though they are not very expensive to operate) and the consequent gaps in the inventory raise the question of whether the Navy needs 4 ships of each type to support fleet operations.
Engaging in a quiet, almost underhanded campaign to eliminate the Navy's salvage and tug assets is a real mistake. These humble ships have been working forward, efficiently supporting the warfighter for years now. And as the maritime battlefield changes, the utility of these small, cheap ships is only going to grow.
The U.S. should not only recapitalize these ships, but build more and distribute them widely. Make 'em ubiquitous.
When funded, the Navy's fleet of eight salvage and rescue ships are always busy, and have, since their entry into the Military Sealift Command Fleet, been at sea, routinely chalking up type/class averages of more than 30% of the year at sea (it's a rate most combatants would find hard to beat).
The salvor/tug Fleets get work done. In 2011 (in the February issue of the MSC's Sealift Magazine), Mark Helmkamp, the MSC Ocean Tug and Salvage Class Manager, said, "our tug and rescue and salvage ships are like fire engines or ambulances; they are always there when there's an emergency. We really work these tug and salvage guys hard. For more than 200 days a year, they are out there doing this kind of work."
They are simple platforms. The four Powhatan Class Fleet Tugs are 1,647-ton variants of a no-frills oil-field supply vessel. Originally a seven-ship tug Class, these vessels were brought into service in the early eighties to offer a means to recover battle-damaged combatants. The four Safeguard Class Salvage ships weigh in at about 2,600 tons, replacing the six-hull Bolster Class (ARS-38) Salvage ships and filling in as the three-hull Edenton Class (ATS-1) salvage and rescue ships that either left service or were dispatched to the U.S. Coast Guard.
For the amount of time these ships operate, the vessels are quite efficient. In 2013, MSC's entire 15 ship Service Support Fleet—a Fleet that included the Afloat Forward Staging Base USS Ponce (AFSB(I)-15), the command ship USS Mount Whitney (LCC-20), two sub tenders, two hospital ships and a cable-layer—cost a mere $416 million to operate (so I assume here that the salvage ships and tugs are a mere fraction of that overall operating cost).
The tug and salvage fleet also operates forward, serving as front-line presence and engagement assets while supporting the more glamorous combatant fleet. The USNS Catawba (T-ATF 168) has record of operating forward that Littoral Combat Ships can only dream of, working in the Gulf for years, refueling ships, resupplying oil terminals, supporting multinational dive exercises, anti-piracy operations and mine clearance exercises. USNS Safeguard (T-ARS 50) has been a ubiquitous feature throughout the Western Pacific, maintaining an 80% operating tempo while permanently deployed to the 7th Fleet.
These ships have been very useful in responses to natural disasters, opening blocked ports and getting practice for when opening a blocked U.S. port becomes an urgent national security priority (and it will).
The old ships are also regularly recognized for detecting and recovering lost aviation assets, a mission that is set to grow as autonomous vehicles begin to proliferate throughout the globe. They're also going to be useful in helping countries attribute "anonymous" attacks (A la the sunk ROKS Cheonan (PCC-772)) from the ever-growing global fleet of small subs and armed UUVs).
And then there's that pesky issue of the warfighter's lack of attention to seamanship (addressed here) and the likely increase in demand for platforms to pull inexperienced warfighting captains off reefs and out of further trouble.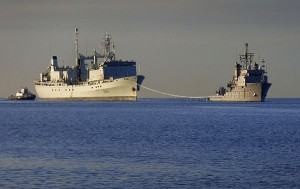 PRIVATIZATION WON'T WORK
In times of peace, privatization of tug and salvage work makes sense. It is easy for the Navy to rely on longstanding private-sector salvage contract vehicles. They work; in 2014, Donjon Marine's tug M/T Coastal Voyager was able to pull the disabled USS Taylor (FFG-50) from the Black Sea to Crete quickly and without incident.
But things may not be so easy in wartime.
While civilians and civilian contractors can always opt to stay away from a danger zone, MSC CIVMARS are far more flexible in "iffy" situations, able to support a wide array of missions that may be closed to civilian operators. They are also better prepared to confront the risks of battle, where a private sector ship and crew may simply vanish, suffering little penalty beyond a potential ding to the bottom line and a sternly worded letter about a likely ban from future MSC business.
As this 2011 RFI demonstrates, the MSC has been contemplating leasing private-sector ships for some time. That's fine, but the Navy must do a better job of thinking through the risks before chasing the lowest cost down the nearest technically acceptable rabbit-hole.
If private-sector salvage and tug resources are unavailable after the U.S. Navy cuts it's organic salvage assets, the Navy's only other option would be to use front-line combatants—cruisers or destroyers–to recover damaged craft. That doesn't work so well. Aside from severely limiting the combat capability of the designated rescue ships (Warfighting First, you know!), the ships and crews are entirely unready for the salvage mission.
The big surface combatants are "supposed" to have some ability to serve as a tug (You know, to get the battle-damaged CVN home). But we're not doing so well. On March 6 2014, after a fire disabled the Royal Canadian Navy's HMCS Protecteur (AOR-509), towing efforts by USS Michael Murphy (DDG-112) and USS Chosin (CG-65) failed, and, in the end, it was a lowly Fleet Ocean Tug, USNS Sioux (T-ATF 171), that finally pulled the damaged auxiliary ship to safety at Joint Base Pearl Harbor, nine days after the accident. And it was the humble USNS Salvor (T-ARS-52) that finally brought the vessel home to CFB Esquimalt.
It is unrealistic to burden front-line blue water combatants with the task of salvaging damaged ships. It is also equally unrealistic to expect the placid business of vessel contracting to continue unperturbed in a background of a larger, wider conflict. Private contracting of salvage assets is a peacetime activity and a poor fit for the complex future battlefield.
The press to eliminate the humble T-ATF and T-ARS fleet suggests that America's "Warfighting First" Navy is growing less and less appreciative of the boring logistical sinews that keep combatants alive, at sea and effective as blue water combatants.

RECAPITALIZE
Despite my suspicion that the Navy is out to privatize this mission, the Navy is also apparently mulling plans to recapitalize the T-ATF and T-ARS, possibly combining the two hulls into a single platform. If true, combining the two hulls makes a certain amount of sense, offering an opportunity to drive support and operations costs down (but, then again, I've heard nothing even as the notional T-ATF recapitalization looms).
However, the need to procure new-build utility ships is coming just as the Navy faces enormous budget pressure, and, unless these ships find a sponsor—either a politically-connected builder or a high-level Navy advocate (if the idea of a tug and salvage oriented equivalent of Admiral Rickover doesn't draw a smile, I don't know what will!)—these useful hulls will be sacrificed for more glamorous and pricey platforms.
The warfighting-first Navy may well be underestimating the future utility of these seemingly "puny", cost-effective platforms. Modern equivalents can contribute on a modern battlefield. Industry is busy selling innovative Ice-Classed vessels with UAV hangars, subsea cranes and…possibly the ability to accept some fancy ISR stuff or modular kinetic goodies that could, in an emergency, be extremely useful–particularly as LCS Mission-Module derived tools free themselves from the oppressive chains of the mission module concept and begin to proliferate throughout the fleet…the Navy just doesn't seem excited about the neat potential inherent in the cheap and capable set new-builds coming out of American yards.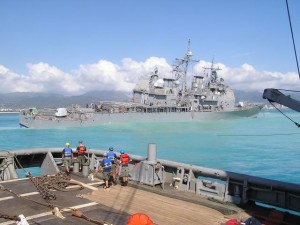 CONCLUSION:
The Russians have demonstrated, through their habit of attaching tugs to their balky combat fleets, that there is a place for tug and salvage assets in the modern maritime battlefield.
Often un-needed and unheeded, tugs and salvage assets are particularly useful in presence roles, serving as utilitarian, low-profile ISR assets that can, in wartime, transform into combat support platforms, freeing combatants from the unenviable task of hauling damaged ships out of battle–that is, if the U.S. intends to continue fielding warfighting ships…that aren't, ah, considered expendable. Some modern tug/salvage platforms–given all the fancy capability flowing into modern industrial hulls–could shoulder modest warfighting duties, too, in a pinch.
The likely demise of the tug and salvage fleet is distressing. Though the private-sector resources are available to handle many contingencies, the growing inability of the Line to acknowledge that specialized non-combatants are sometimes critical in keeping warfighters ready and operating forward is distressing. We forget that, in a contested sea, with fragile alliances in port, an independent Fleet train remains an important capability. But after decades of dominance, we've spent the last forty years or so de-funding it. And that oversight will kick our butt in the interesting years to come.
Sorry to be such a downer. But I'm sure this is all something being actively discussed this week at the Surface Navy Association's annual fete. Right?
Right?
Sigh.