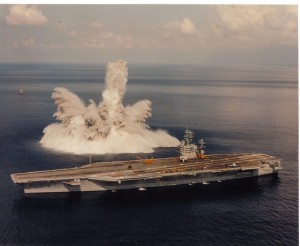 I know I should be talking about big bolus of shipbuilding cash that is headed the Navy's way, but…I'd be remiss if I failed to note some Ford Class news. Inside Defense reports:
The Navy is reverting to an earlier plan and will shock test the lead ship of its new aircraft carrier class, the Gerald R. Ford (CVN-78), an apparent reversal after the service appealed to Defense Secretary Jim Mattis.
This is a wise decision, and, as I wrote earlier this month, both the Navy AND the entire Ford Class build-team will benefit from shocking all those new systems now. Admittedly, using the USS Ford as a testbed won't be perfect, but shock trials never are. Sure, the first Ford isn't a perfect representative of the class, but, well, no Navy ship is alike, and even though the Ford is neither done nor entirely representative of other Fords that will follow, it is closer than any computer program can ever get.
And, heck, Huntington Ingalls got it's two-carrier RFP (oh, ok, to "analyze savings" on a two ship buy, but, come on…it's inevitable), so the industrial base is safe. So let's shock the Ford, make the changes we need, and then get the flight deck and the electron delivery pathways figured out. So, kudos to the DoD and the Navy for making the right decision here. It's for the best.
And then, while we are at it, let's go shock some Virginia Class subs. Or one of those DDG-1000s.