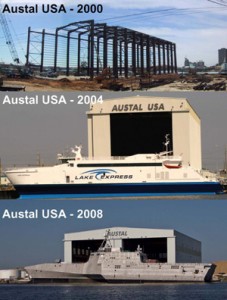 As the Navy works to cajole a lame-duck Congress into approving the Navy's proposal to build 10 variants of each LCS model, it is interesting–and potentially educational–to observe the shipbuilders who have skin in this fight–the recently divorced General Dynamics/Austal team, and the Marinette/Lockheed team.
Marinette Marine:  Puttin' on a show!
In Wisconsin, Marinette, after a premature shipyard celebration, is, as the prospects for the LCS "dual buy" get increasingly uncertain, resorting to a bit of theater, imposing a two-day shipyard furlough as they move the PCU Fort Worth into place for a scheduled December 4 launch.  And, just to make things hit home even harder, the yard's President has announced that 200 workers (or so) will be given a longer layoff on December 4, just before Christmas. Or just before Congress closes up shop.  They're blaming the delayed LCS contract:
After appearing at a St. Norbert College event in De Pere Tuesday morning, Marinette Marine CEO Richard McCreary said the layoffs are mainly due to the delay in the expected littoral combat ship contract with the US Navy.
"Originally LCS was supposed to be awarded last July, then it was August, then it was September, and obviously we're in November marching into December."…

…Even though the company's president says they'll try to bring back workers as fast as possible, having this happen around the holidays makes it tough.

"Any time in December, that's going to cut people's holiday pay out, which for us averages to like ten days or something like that.  So not only will they be going on unemployment before Christmas, they'll be taking a huge cut in pay also," pipe fitter John Semrau said.
That's leading to some pushback that gives a little insight on how Marinette strained to get LCS-3 done.  Marinette is having trouble finding steady work for it's shipbuilders (their NOAA Fishery Research Vessel is only getting started and the Alaska Regional Research Vessel is suffering design problems):
That same person posted, "The management brought in 70-100 contractors so they could have the LCS (littoral combat ship) 80 percent complete when it hits the water, and now I'm going to lose my job because of this."

McCreary confirms the company brought in subcontractors for two months to help with the Navy combat ship. He argues the company has to abide by the Navy's schedule and get the work done by the ship's launch date, which is December 4th.
Even worse, it looks as if Marinette's corporate parent, the Italian-government-sponsored Fincantieri, is still not delivering much more than their long-promised $100 million-dollar investment in shipyard modifications (a $10 million dollar expansion of the manufacturing shop is underway)–which is going to cause problems for Marinette's planned bid for the LCAC(X) or ship-to-shore connector [Edited to reflect the fact that Marinette's investment is underway–but head down to the comments to get a little more background on the capital improvements underway at each shipyard.]
From this distance, Marinette looks more than a little hollow.  A Potemkin shipyard, so to speak.
Austal: We're a little to busy to talk.
In the south, Austal, buoyed by the JHSV contract and in the midst of work on the LCS-4, isn't saying anything.  Rather than talk layoffs, the company is simply projecting strength, and hiring people. Thanks to Austal, companies as far away as Iowa (Aluminum producer Alcoa) are adding folks.
Austal isn't even celebrating.  Rather than celebrate, the company joined Alabama officials the other week to open a massive, $12 million dollar Maritime Training Center.  A short walk away from Austal's brand-new $100 million dollar ship manufacturing center, the new facility is, basically, Austal's clubhouse–a way to sift for good workers and hone the skills of the workers already on site.
General Dynamics: Bath crushing some sour grapes:
The only public comment coming from the Independence Class side of the house is the sour grapes flowing from the Bath shipbuilding unit of General Dynamics.  After trying to work around the Navy's original RFP, General Dynamics took the risk of cutting relations with Austal, with the intention to serve as the second-bidder for the follow-on LCS contract of 5-10 hulls.
If the split buy goes through, the Bath yard gets left out in the cold (though I strongly suspect that the DDG-1000 and DDG-51 margins are going to be far higher than what might have come from the LCS contract).
Maine's Senator Susan Collins has taken up the case, and helped restrain Congressional enthusiasm for the split-buy plan:
The Navy proposal "represents an unexpected reversal of its procurement plans" and would make it unlikely that Bath Iron Works could compete for the construction of the ships, said Collins, a Maine Republican who serves on the Armed Services Committee.
And though General Dynamics hasn't officially said anything about the split-buy, it has pointedly (and rather hurriedly) announced the shut-down it's LCS design center of excellence (even though the facility was slated for a shut-down months ago):
"The work (in that building) primarily involved LCS design, which we're really no longer involved with in a big way, so the folks who were out there are now moving back into other areas of the company," BIW spokesman Jim DeMartini told The Times Record this week…

…DeMartini stopped short of saying there would be no layoffs as a result of the demise of BIW's involvement in the LCS program, but he said moving out of the Industrial Parkway facility is not a sign of job cuts. He said the employees who were working there are primarily being moved to buildings where work on other ship programs is taking place.
It doesn't feel like there is any love lost here.  But that could change…
Conclusion: Marinette in trouble.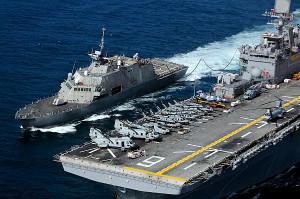 EN ROUTE–RIMPAC 2010
So…with this information, what does it tell us?
I think the split buy is going to have a hard time.
If the dual-buy dies in Congress, and the Navy pulls the trigger on a downselect, I don't think LCS-1 is going to win.  I hold to my original assessment–LCS-2 can, and should, win this.  LCS-1 may eke out a win on cost, but I don't see that platform winning a contest and a re-compete.  But, then again, I am an optimist.
Frankly, I wonder just how prepared Marinette Marine actually is for the contract.  Is that yard ready to grow to take this 10-ship fabrication contract?  I don't see it….Where (and when) will the shipyard recapitalize?  Where will it find trained people?  In short, where's the manufacturing sinews?  Given the contractual timelines, I don't see it.
Even worse for Marinette, if the split-buy dies in Congress, given Marinette Marine's work-flow hiccups, the shipyard is in serious trouble.  In the event of an expensive and lengthy legal contest, the workers that built the LCS-1 and 3 are gonna go away.  Even if LCS-1 wins under the original RFP, delay kills Marinette's LCS workforce.
Even with the split-buy, that yard looks like it is on the verge of loosing the nucleus of their LCS workforce.  Add in any delay, those workers are pretty much gone.  Good-bye.   See ya.
Austal, on the other hand, has a new yard, a complete training center—and lots of work ready to sustain trained workers in the event of a contested contract.  The shipyard is set out with sufficient space to grow, and once the LCS contract gets inked, Austal can simply pull out some blueprints and grow–a simple glance at low-rez overhead imagery can show you that they've already pre-prepped building sites for their yard growth. (as the comments below attest, Austal is ready to drop another $100 million dollars to double their manufacturing facility.  Other investments–offices, manufacturing/launch sheds, etc.–will follow from that.)
So, with this in mind, I'm getting somewhat concerned about the LCS-1 variant.  The design leaves me cold, and I don't think Marinette has the manufacturing heft to pull off a 10-ship contract in a timely fashion.  Austal does.  And should the LCS dual-buy devolve into an LCS duel over contracts, I favor Austal's chances.  They can hunker down and fight without fear of loosing their work force.
At some point, that manufacturing strength speaks for itself.
Hopefully Congress–and the Navy–agree.  But…sometimes I suspect that Austal has been a little too closed-mouthed, and that too few people out there know what that band of upstart shipbuilding rebels on Mobile Bay have actually gone and done…