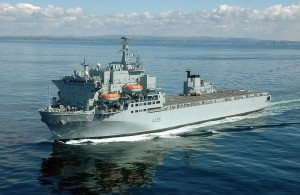 It will be quite interesting to see how the UK's amphibious shipping/hospital ship hybrid, the Royal Fleet Auxiliary Argus (A135), does in projecting biomedical support ashore in Sierra Leone.
The ship is perfect for operations in an infectious environment–it is a 100-bed hospital ward, equipped to accept contaminated casualties, lashed to a right-sized aviation detachment, a strong water purification plant and a good, old-fashioned ro-ro platform. For projecting biomedical support into a relatively secure infectious disease-challenged environment, there's really nothing better. This ship–or, at a minimum, it's notional Sierra Leone CONOPS–should be eyed as a model for America's as-yet-unfunded Mercy Class replacement initative–the T-AH(X) Program.
The T-AH(X) you ask? Why, it'd be a great add-on to that LX(R) program–you know, that LSD-41/49 replacement project that'll now apparently grow out of the LPD-17 hull (Not to complicate things, but I think the LX(R) will end up being what LPD-17 should have been if rational people had actually kept the original LPD-17 program from sprawling all over the place). But now that the T-AHs have been included in the combat fleet, it's time to really start discussing their impeding replacement, and find a way to fit new ones into the U.S. naval shipbuilding plan.
But I digress.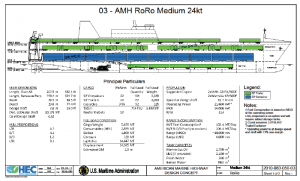 RFA Argus is another in the UK's long line of interesting experiments with cost-effective ro-ro conversions (and the "harbinger of naval decline!" holler the wags), but, the RFA Argus has undeniably done yeoman service for the UK. Pressed into a range of roles after the Falklands and Gulf Wars, the ship's day job is to serve as an aviation training platform. But, transformed into a casualty-receiving ship (a modification that was quickly done in the run-up to the first Gulf War), RFA Argus resolves many of the challenges that hamstring the USNS Mercy and USNS Comfort–aside from being more ready to handle numbers of contaminated casualties than American hospital ships, RFA Argus is smaller and more useful–it is less than half the size of America's converted oil tankers/floating hospitals, has far better ability to support rotary wing craft and receive casualties from helicopters, and has Ro-Ro capability, which, again, makes for a far more relevant platform.
America has never really figured out how their great hospital ships (the old metric was that they were tied for, oh, like the fifth largest trauma units in the nation) would provide for 1,000 casualties. The Lehman-era Navy built these floating hospitals to be little more than floating "monuments", without really thinking through how these platforms would work as a cohesive system. I mean, a top-tier thousand-bed trauma hospital is great, but…how do we man 'em?  How do we manage ingress/egress? Where do we moor it? The devil is in the details, and it's the details that really compromised the utility of these two grand-scale hospital ships.
And for combatting Ebola? Sure, the USNS Mercy and Comfort could do it, but I suspect that there's only a fraction of the total beds aboard prepared to handle infectious disease patients. And if I was being radical–and, say, being pushed to provide naval resources from, say, an angry, resource-hungry Ebola Czar–I'd suggest that while containing Ebola aboard the ship is hard, it isn't exactly a challenge that would sideline the ship–it's the far more easily aerosolized diseases like Tuberculosis make the USNS Mercy and USNS Comfort less-than-optimal receiving vessels for biomedical emergencies in the developing world. (This may have changed over the course of some refits, but, in the main, if I were Master of the Mercy, I'd just want to stick with treating plain-vanilla trauma patients from a more-developed area.) In a true WMD situation, USNS Mercy and Comfort are probably of little use.
But the RFA Argus is a different story. This ship is going to show up off Sierra Leone, tie up, promptly disgorge a fleet of ruggedized Toyota Pickups, and employ it's helo detachment to support disease surveillance and treatment center establishment/resupply, while providing high-level secure care aboard ship. It's perfect for supporting operations in a disease-challenged environment.
And that–supporting operations in a disease-challenged environment–is a mission we need to get serious about.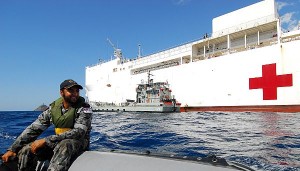 Is DOD Serious About Operating In A WMD-Challenged Environment?
Over the past ten years the DOD's focus has been more upon the sexy idea of counterproliferation, while the challenge of actually operating in a WMD-impacted environment has been, well, kinda handed off to Homeland Defense and civilian authorities. Until recently, verbiage related to counterproliferation has dominated our strategic documents, while operations in WMD-impacted areas…get sentence or two at best.
Operating in a disease-impacted, chemical-impacted or radiologically-contaminated area is hard, and I fear we have let our preference for action and kinetic approaches like "counterproliferation" sap DOD's investment in gear and strategies that might better enable operations in a challenging environment. And that, in this era of A2/AD warfare, is a problem.