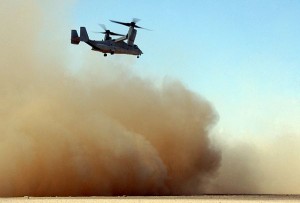 The V-22 Osprey program has a magical ability to generate "good news" just as "bad news" breaks.
This PR gamesmanship has happened before.  Back in 2007, just hours after the MV-22 Osprey flubbed it's arrival into Iraq, a CV-22 was sent out for a domestic SAR.  (Here are some details)
This week, an MV-22 Osprey released flares and, for the second time, started forest fire out on the East Coast.  It sure didn't take long for Marine Corps Lt. General Trautman to pop out of the Pentagon and announce the compensatory "good news" that MV-22s were engaged in the Marja fig
ht.
Havelock News has some details on the fire:
A MV-22 Osprey from New River touched off a fire Thursday near the BT-11 Piney Island bombing range in Carteret County.

Pedro search and rescue helicopter crews from Cherry Point were able to put out the ground fire from the air before midnight, according to a release from Cherry Point.

The fire started when the Osprey, attached to Marine Medium Tiltrotor Squadron 264, released a flare during training. Flares are a defensive measure used to avoid attack from enemy air defense systems, according to the release.
The Carolina Coast Online noted that the fire was extinguished by an old HH-46 using aerial firefighting methods–something a MV-22 has yet to try.
Again–we need to be careful about operating MV-22s in fire-prone areas.  Better to be honest about the risks and prepare to handle 'em rather than to deny it and, well…risk disaster.  (Out West, the Marine Corps cannot risk being the cause of a big fire.) But, again, being forthright about risk demands a cultural change–a change that the current V-22 management team seems unprepared to make.