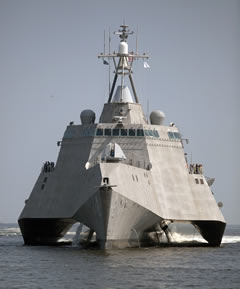 Austal is the world's premier manufacturer of advanced aluminum ships. An industrial iconoclast, Austal USA entered the brutal U.S. shipbuilding market in 2000, and is now producing two key components of the future U.S. Fleet, the Littoral Combat Ship and the Joint High Speed Vessel. I have been a fan of Austal and the LCS-2/JHSV concepts for years.
Today, I embark on a new journey as Austal USA's Vice President of Sales, Marketing and External Affairs.
The immediate impact is the suspension of blogging at NextNavy.com until a decision is made as to the future of this naval-affairs forum.
I am ecstatic that Austal values the public discussion of naval affairs and national security strategy afforded by outlets like NextNavy.com. Over the coming weeks and months, I look forward to re-engaging the public (and the naval blogosphere) in new ways while helping Austal grow to become one of the best, most innovative naval shipbuilders in the business.
It has been a wonderful ride here at NextNavy.com. For my East Coast friends, I am attending the Navy League's Sea/Air/Space Exposition, so please feel free to drop me a line at craig.hooper@nextnavy.com or, better yet, stop by the Austal booth (#411) to say hello!