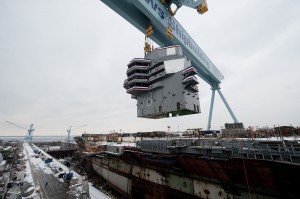 For a last-second, end-of-year compromise, the "Consolidated and Further Continuing Appropriations Act of 2015" does a surprisingly good job of preserving America's naval industrial base.
To me, it's less about buying ships and more about buying…time.
The Act offers the Nation a measure of flexibility–if it advances intact, the 11-Carrier fleet is (relatively) secure for now, and some hot production/support lines for relatively mature platforms (LPD-17, JHSV, CVN-midlife refueling) get enough work to keep going for just a wee bit longer. The submarine production line is solidly funded, going into the SSBN(X) planning phase healthier than ever, the standard DDG "battlewagon" production lines are primed…
As shipbuilding goes, things could be a heck of a lot worse.
The Navy should be pretty happy. The Service gets more than they originally suggested in the FY '14 Shipbuilding Plan, and the Navy gets to put off irrevocable cuts for a few more years–preserving key industrial resources until, oh, a Western Pacific miscalculation makes the prospect of a larger U.S. Navy more politically palatable.
The Numbers:
Carrier Replacement Program, $1,219,425,000;
Virginia Class Submarine, $3,530,254,000;
Virginia Class Submarine (Advanced Procurement), $2,301,825,000;
CVN Refueling Overhauls (Advanced Procurement), $483,600,000;
DDG–1000 Program, $419,532,000;
DDG–51 Destroyer, $2,661,907,000;
DDG–51 Destroyer (Advanced Procurement), $134,039,000;
Littoral Combat Ship, $1,507,049,000;
LPD–17, $1,000,000,000;
LHA Replacement, $29,093,000;
Joint High Speed Vessel, $200,000,000;
Moored Training Ship, $737,268,000;
Moored Training Ship (Advanced Procurement), $64,388,000;
Ship to Shore Connector, $159,600,000;
LCAC Service Life Extension Program, $40,485,000;
and for outfitting, post delivery, conversions, and first destination transportation, $474,629,000.
Completion of Prior Year Shipbuilding Programs, $991,285,000.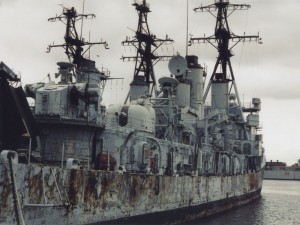 Welcome the Waiver Fleet
This Act does put too many ships on one-year waivers.
The Congressional "punt" on the Navy's CG mothballing and modification scheme has already been reported, but it is worth noting that it looks like this bill also keeps LSD-41 (30 years old), LSD-42 (29 years old) and LSD-46 (24 years old!) in service. The Navy's been trying to get rid of these vessels (the LSDs and CGs) for years now; I don't know how badly the LSDs in question have been allowed to degrade, but the two oldest Amphibs did receive refits intended to extend their service lives to 40 years.
I understand the intent–the standard line is that old ships with big crews cost too much to fix/modernize/operate effectively. New low-cost ships (you know, before they experience the inevitable cost-growth) are supposed to remedy the problem, but…my sense is that nowadays it's all just an accounting gimmick. Yeah, I know the Navy got enormous savings by eliminating large-crew nuclear ships and the large-crew fleet train/support fleet. But everything else  seems like a wash–I don't have the data, but I'd sure love to take some black-belt warrior-accountants to get it. We already know minimal manning isn't viable, and I'd be thrilled to compare the annual operational expenses of an old FFG with, oh, either in-service LCS variant (If it were even possible to get an accurate accounting on LCS operational expenses). Yes, new ships offer new "things"….but assets in hand–particularly mature, clunky, non-super-specialized freight-haulers like the LSDs–are always useful. Once they go away, they're darn hard to get back.
Anyway, nothing is more annoying than to watch the Navy degrade/decommission/sink perfectly serviceable ships just to help give the Congress sufficient "cover" to procure new vessels. If history is any guide, the LX(R) schedule is going to slide right, and we'll really want those old LSDs in the near-to-mid term (Once China starts actively using their growing fleet of big "Blue Water" amphibs, we'll be looking all over the place for more amphibious lift).
But…That said, we can't keep a fleet of middle-aged ships operating on one-year waivers. It's not just onesies and twosies anymore, either. How big a force can be kept operating on annual Congressional extensions?  It's just…not sustainable over the long haul. Neither the Navy nor Congress may like it, but both parties must commit to maintaining the assets they already have–and if that means ponying up cash to keep older ships maintained at a sustainable level, then, well, do it.
Killing off ships to help "force" Congress to fund replacements is a tactic for, oh, less interesting times.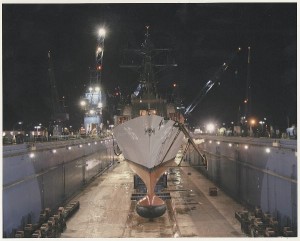 Everybody's A Winner!
As far as shipbuilding goes, it looks like almost every shipbuilder got a little something extra.
In a quiet, unannounced development, Alabama's Appropriations Chief, Senator Richard Shelby, found, in a non-earmarking earmark kind of way, an additional JHSV for his home-state shipbuilder. It'll enrage the Teaparty Crowd, but adding a cost-effective JHSV is a wise move, keeping the JHSV line running while the Navy musters up the courage to formally request another block-buy of these useful, cost-effective civil-spec ships  made out of…aluminum (Ahh, I can hear DOT&E taking to the fainting couch already!)!
Only 3 LCSs are included in the budget, but it looks like some advance procurement funds were added for a fourth.
Huntington Ingalls gets another LPD-17 (looks like the Appropriators added in a bit of extra cash there) and a CVN refueling–keeping those large "production" lines intact.
And it even looks like General Dynamics Electric Boat gets a nice chunk of change (who knew moored training boats were so pricey!) to update the sub community's aged "hands-on" training assets–in conjunction with a bundle of other improvements that may support larger trainee throughput. My sense is that the Navy's quietly setting the foundations to, if required, ramp up training for…a bigger sub fleet. Which–you heard it here first–is gonna happen.
Conclusion:
So. How'd the Navy do?  Well, if you want a benchmark, the old 2014 Shipbuilding Plan FYDP suggested that the Navy would only get 2 Virginias, 2, DDG-51s and 4 LCSs in '15. So, for now, for the sacrifice of an LCS, The Navy keeps two active production lines open and some additional ships. Not bad, given the budget environment…But there's no time to rest. Sequestration will be upon us before we know it!