After calling for the recapitalization of our aging MSC oiler fleet, it is great to see the T-AO(X) program move ahead. I do like what I see, but….the pre-solicitation notice is missing a few things–and that means the Navy is missing an opportunity to get good ideas from industry for free.
Here's what I see: First, the T-AO(X) may end up being the death knell of the fast, mil-spec multi-product station ship. As the theory goes, the T-AOEs are just too expensive to build and operate–and, worst of all, the existing T-AOEs will need to be replaced precisely when the U.S. will be facing some tough financial straits.
But the T-AOE replacement plan has sorta been perched waaaaay out on the margins of the 30 year shipbuilding plan, comfortably undefined.
This notice suggests that crimp time is upon us. We are, by now, used to the idea of a T-AKE working with a T-AO to service carrier strike groups. But…I feel that this is the first document that hints the "cheap" two-hull option–the civilian spec T-AKE and the T-AO(X)–will soon be the only option for carrier strike group resupply.
As the T-AO(X) presolicitation notice says:
The Navy is preparing to conduct an Analysis of Alternatives (AoA) to refine the key attributes of the T-AO(X). The AoA will conduct various tradeoff analyses to determine the optimal solution in terms of cost, cargo capacity, speed and overall number of T-AO(X)s required to meet Fleet requirements.

Alternatives will examine various quantities of bulk petroleum products (JP-5 and DFM); dry stores/packaged cargo, fleet freight, mail, personnel and other miscellaneous cargo to determine the optimum cargo capacities. A range of dry cargo capacities at least 20% greater than the T-AO 187 Class should be considered. The FY11 30 Year Shipbuilding Plan indicated that the Combat Logistics Force (CLF) would transition to a force composed of only two classes of ships, the T-AO(X) and the T-AKE. The AoA will evaluate T-AO(X), when operating with a T-AKE, as a possible replacement for the T-AOE 6 Class.
I didn't think the 30 year shipbuilding plan was that adamant about the T-AOE. It…almost looked like the T-AOE was included. But..This notice sure sounds like the Navy really wants to see a dynamic civilian-spec duo replace the four one-stop UNREP vessels. Me, I'd like to see that analysis–not that I think it will shift the analysis one way or the other, but…it would be neat to see what the naval blogosphere thinks.
So, as far as specifics, here's what the T-AO(X) presolicitation (copy is here) wants from interested contributors. What's missing?:
A. Primary ship characteristics.

A range of dry cargo capacities at least 20% greater than the T-AO 187 Class should be considered.
Speed tradeoffs between 20 and 26 knots should be considered.

b. operational concept (if different than current T-AO 187 class),

c. technological maturity of proposed components,

d. environmental compliance aspects,

e. respondent's experience in design, development, and production of similar/equivalent ships,

f. Total Ownership Cost (TOC) reduction concepts, including but not limited to

Energy conservation/efficiency
Intra and inter-ship commonality with U.S. Navy fleet
Manning/workload reductions
Maintenance cost reductions
Technology advancements relative to current T-AO 187 Class
Looks pretty good. But I think it misses the mark on a few items: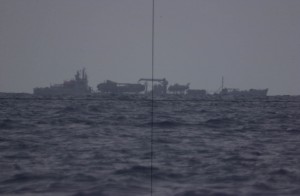 No recognition of the growing MSC mission-set: This notice seems to be ignoring the ugly little fact that MSC vessels are being asked to accept an ever-expanding mission portfolio.
It might be nice to see what potential builders think. What would they add?
No recognition of likely future threats: Over time, these vessels will be forced to operate in contested, potentially sub-infested waters. Does the world of 2025 merit making some additional investments in quieting, submarine decoy measures and point defense for missile attack? What about shock and survivability?
We need to think harder about how MSC ships are going to be operated in a maritime conflict. They will be at risk. They will be at the front lines. They will be targeted.
Is the maritime battlefield of 2025 a place where we can really expect civilian-spec MSC vessels to survive?
No recognition of utility for international partners: With the Navy putting a premium on empowering international partners–and with a real need to sell stuff overseas–I find the failure to consider bringing in a few international partners rather perplexing. Australia, Canada and others are going to need (or are currently planning to build) new oilers/alongside replenishment vessels.
Replenishment ships are hot right now; capitalize on that interest. We can compete on the international market–and with the dollar expected to drop significantly, it's foolish not to try, anyway.
To Conclude: There is a growing divide between those countries who have decided to keep their fleet auxiliaries largely mil-spec and our decidedly less-so logistical train. Before the Navy fully commits to a pure civil-spec logistical support fleet, America must think harder about the future, and ponder the combat utility of tiny civilian compliments sailing in civilian-spec replenishment platforms.
With that in mind, it would be nice to open this presolicitation notice up a little bit, so industry can help the Navy ponder the future and find the best solution. It may well be that an ample supply of cheap civilian-crewed, civil-spec platforms is the best, most flexible option. Let's just take another look!
But I fear that the folks in charge are peacetime-oriented accountants, really committed to building a replenishment force to serve a peacetime-tempo Navy for the lowest operational cost possible.
And I don't see that as wise given the contested maritime commons that loom dead ahead.