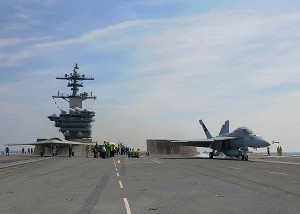 In the coming "Age of UAVs", the influential Cold War-era Carrier Air Wing is set to become something of an old-school anachronism. Now, such sentiment is anathema to most of the exalted flyers in the leather-recliner ready-room set, but, well, the robots just don't care.
To a robot a deck is just a deck, and, assuming (ASSUMING) UAVs will actually get to a point they can manage the challenge of deep strike, well, as long as somebody on that deck can provide gas, ammo and maintenance, UAVs will use that deck to stay airborne, constantly moving, shuttling from carrier to carrier to base to…wherever. Robots just don't care.
The era of the dickering over the makeup of a nicely circumscribed, well-balanced and platform-based air wing (70-some fixed-wing or rotary-wing craft serving a particular carrier) is coming to an end. Wing composition won't matter if units are moving fluidly throughout the fleet. Yeah, sure, a few rump platform-dedicated air wings may stay on after 2030 or so, but they'll be of the logistical services set and/or largely defensive. The great "balanced" carrier air wing of the deep strike age will be replaced (or at least supplemented) by wandering clouds of robotic locusts accustomed to spending most of their lives airborne, moving, on mission. Because, again, robots just don't care.
Inertia is a Threat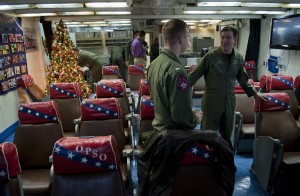 This transition won't be easy. An itinerant UAV-based strike force disrupts too many long-established, well-honed careerist rice bowls. Take a look at the histrionic moaning and gnashing of teeth over the simple retirement of a redundant U.S. Navy air wing–it is only a sign of things to come. (Ok, aside from the valid risk of battle attrition, the rationale to maintain 10 air wings when two of our CVNs will be in deep, multi-year maintenance is beyond me (I've kvetched about that matter here).)
Change won't come quickly if the "ten" old-school carrier air wings continue to be seen as a Congressionally-mandated "farm team" for future CVN skippers. So with Congress and a large segment of the Navy likely to argue for stasis, change will be glacial, at best.
And that puts the U.S. Navy at risk.
So carrier air wings aren't going to go away. Sure, there will still be plenty of cozy recliner-equipped ready rooms, CAGS, and folks will still "own" the flight-deck for a long time to come, but the route to carrier command is gonna start shifting away from your conventional aviator to…something else.
The path to real air combat leadership–I suspect–will lend itself towards folks capable of putting the old carrier air wing concept aside and able to quickly grasp the battle-space. We'll need folks (E-2D community, I'm lookin' at you!) who can meld together a vast array of widely distributed effectors (all at different operational statuses and capabilities) into strike packages and get them to targets. But that developmental path (complicating matters, the distributed lethality pathway niche has been taken over by the–gasp!–surface warrior community) will take time–possibly too much time than the Navy really has.
The era of sending planes from discrete carriers to discrete targets (a la planes from the Midway-era Enterprise head off to strike Hiryu) is ending, and, as it does, the carrier air wing organizing concept needs to vanish along with it.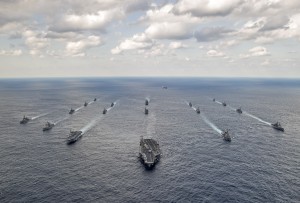 The Carrier is little more than a FARP
So how do we speed things along? Well, we need to understand that Carriers are little more than logistical support bases. Flat Decks will become Floating Forward Arming and Refueling Points (FARPs), deployed primarily to service/rearm UAVs as they shuttle through their 8, 10, 12-hour (or longer!) operational cycles.
To start this transition, multi-carrier task groups need to try decoupling their air wings from their "host" carrier, with carriers supporting (really supporting) platforms from two, three or more places. Carriers (and their associated Navy Yard budgeteers, logisticians, Pentagon accountants, and so forth) need to get used to life without a dedicated wing.
But my sense is that–with more Navy money invested in old-school Ford-Class CVNs than ever–nothing will change unless either the Navy enables some youngsters to demonstrate the concept OR if some of the DC think-tanky folk start bouncing this idea around, so it gets traction in Congress and the Navy.
Now I don't know what the talented Navy kids are doing (well, OK, some are out there studying Cyber, Space and Distributed Lethality, so it's a start), but, as far as carriers go, the cadre of DC strategic taste-making folks haven't pushed much beyond conventional old-school thinking–at least not yet, anyway.
CNAS's Jerry Hendrix came close in his 2014 "Carrier Air Wing of the Future" paper, but he didn't do much more than lob Robert Work and scamper right back to the safe (and likely far more profitable) territory of mulling F-35 numbers:
As Thomas Ehrhard and Robert Work wrote in 2008, "U.S. aircraft carriers have evolved into operational strike systems with outstanding global mobility but relatively limited tactical reach and persistence." They argue that new types of unmanned naval strike aircraft might "spark a new carrier revolution – a revolution that could transform US aircraft carriers and their embarked air wings into key components of a persistent global surveillance-strike network effective across multiple 21st century security challenges." Diverting savings from the F-35C program in order to accelerate the UCLASS program and field a more advanced and capable carrier-based unmanned aircraft in the 2020s would be one way to facilitate this revolution.
This is anodyne stuff–and I certainly expect more from Jerry than this. So let's take some risks, stick our DC-ist careerist necks out and start really talking about what the UAV revolution is going to mean at a unit level in 10-20 years. It's time for naval advocates to make some gutsy calls.
That's how that strategy sausage starts getting made.
So my call is this: dismantling the Carrier Air Wing as an operational/organizational concept will free the Navy to develop, field and fight UAVs–and help Navy use their CVNs (and other flat decks) to the fullest.