Water, is, in a word, important.  Even for an organization that puts "Warfighting First", water purification and water distribution weighs in at the top of any commander's list of concerns.  And this is no a trivial matter, as the average requirement for a foot soldier or sailor is estimated to be about 4 to 8 liters a day.
Now, one might think–given that we've been fighting a decade-long war at the end of a huge logistical support chain–that a particular area the Armed Forces should have grown some well-honed in-house expertise is in water purification tech and the rapid projection of bulk water purification systems.
One might also think that some of this technology might have spilled over into HA/DR response doctrine.
But…it seems that things haven't really progressed much–at least on the Navy side of things.
Now, I don't mean to discount the things that are going well with the effort to aid the Philippines–the Navy communications/PR house is doing wonderfully. ISR is doing great. The Marines are doing a fantastic job promoting the MV-22 and demonstrating their added value. The Navy is, again, building the case for their 12-aircraft carrier power-base. It's just that the services' HA/DR "best practices" handbook, seems, in some critical, yet low-profile places, to be frozen.  So, hopefully, this post will spark some thought–and action–in certain quarters.
Allow an example.  Here's a story from the Navy's front office cheering the creation of an ersatz water-distributing "Octopus" aboard the USS George Washington, CVN 73 (photo of said Octopus is above):
…Hull Maintenance Technicians (HT) aboard the U.S. Navy's forward-deployed aircraft carrier USS George Washington (CVN 73) used their skill and creative knowledge to assemble a device that would fill containers that would be delivered to the affected areas.

"We were told the basic idea of what was needed and we just ran with it," said Hull Maintenance Technician 3rd Class Jacob Kaiser, from Huron, S.D. "We were able to harness the ship's ability to distill more than 400,000 gallons of fresh water a day to those who need it most in support of Operation Damayan."

The HTs designed and built a water distribution pipe, christened "the Octopus", which will allow Sailors to fill up to eight fresh water containers simultaneously.

"We were told to make it adaptable for use on the flight deck, and that they were going to fly it off for use in the Philippines," said Kaiser.

Over the course of less than nine hours, the HTs cut, welded and attached handles to control water flow. George Washington's machinery repairmen also aided in the process by creating a brace system so the "Octopus" could be set high enough above the deck for Sailors to fill up jugs of water.
But this isn't some new and innovative thing.  Carriers have done this before. The photo below is the potable water distribution apparatus ginned up on CVN 72, after the 2004 Indian Ocean Tsunami.  You can see that the Octopus hasn't changed much.  Even the spigots are the same color (and I'm going to take a second to note that CVN 72 built theirs in eight hours, so, what's the deal CVN 73 folks?  You gonna let the other flat-decks beat ya??):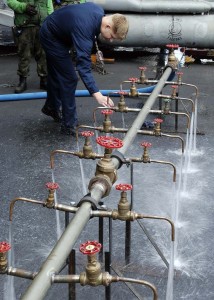 It seems that every time we do these HA/DR engagements, some well-intentioned carrier mechanics resort to improvisation (or at least it's portrayed–every time–as an improvisational step) to facilitate water distribution ashore.  We should be past that by now, and have this stuff ready to roll (blueprints/doctrine/stores/etc)–after all, it seems that every five years or so, a carrier is detailed to major HA/DR mission.
Surely the carriers have some guidance/gear/lessons learned available?
I mean, this particular piece of kit appears every single time a carrier responds. Why, look! Here's USS Carl Vinson's Octopus in operation off Haiti in 2010: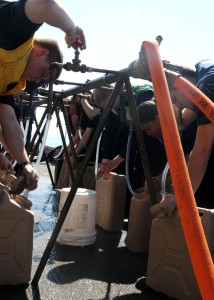 The one innovation of the "CVN 73-variant Octopus" is that the crew is going to fly the spigots off the ship.  Which hopefully means that the improvisational "sinks" are, in time, going to be married with some sort of ground-based purification system that can reduce the load on rotary-wing assets.
Hopefully, something like this:
The Lightweight Water Purification System, or the LWPS, fits in a Humvee and can produce up to 125 gallons of potable water per hour.  The other method for purifying water is the Tactical Water Purification System (TWPS).  It filters and cleans 1,200 to 1,500 gallons of water an hour, enabling a utilities team to fill large bladders with drinkable water at staged water points. The TWPS is carried on a 7-ton truck, and can be set up by an engineer support unit in approximately 30 minutes. In Afghanistan, there are 21 of these systems. The TWPS more than doubles the production capacity of the older reverse osmosis water purification units that has treated water for a generation of military troops.
We have plenty of these in Afghanistan. This is the type of item that should be stockpiled, well maintained and distributed globally.  You can never have too few potable water generators. I would think that the HA/DR and Defense industries would have also generated some nice and portable (and expeditionary) multi-spigot set to be deployed in conjunction with the LWPS/TWPS systems (or that Carriers and Flat-decks would be carrying something already in an MV-22 Osprey-ready pallet), but hey, I'm just a no-account shipbuilding promoter.
Water is a serious thing. And the fact that the U.S. Navy does not have the ability to seamlessly project water purification ashore suggests that the Navy is taking water for granted.  And that, dear readers, would make those original stewards of the Navy's longstanding Health and Sanitation legacy roll in their graves.