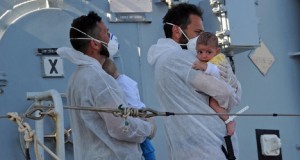 After saving some 150,000 lives, Italy is rumored to be shutting down "Mare Nostrum", an operation to interdict the flow of African migrants into Europe. If true (there are rumors the Italian Navy hasn't gotten an order to stop), then that's…unfortunate. This effort has done a lot to reinvigorate the Italian's large, modern–and often ignored/mocked–Navy.
It's safe to say that Italy's Navy-led humanitarian operation did more than just rescue cross-Mediterranean migrants. It saved a Navy. And when researchers look back, they will discover that this humanitarian exercise rescued the modern Italian Navy from underfunded irrelevance.
Despite the wider sense that the Italian Navy's work did little more than accelerate the flow of migrants across the Med, the crush of "migranti" gave the Italian Navy an ideal stage to demonstrate the enduring value and versatility of (not necessarily warfighting-oriented) naval resources to folks at home and abroad. Here's a representative story from an Australian outlet:
All year the Italians had been rescuing unprecedented numbers of people who were risking all on unseaworthy boats to make a new life in Europe.

By the time we finally board in September, 130,000 desperate people have been saved and brought to shore, many fleeing war and internal conflict in places like Eritrea and Syria, others seeking economic opportunities not available in their home countries.

Our invitation is to come aboard the San Giusto, the largest ship of the five Italian vessels that are involved in a major rescue operation called Mare Nostrum, which means Our Sea…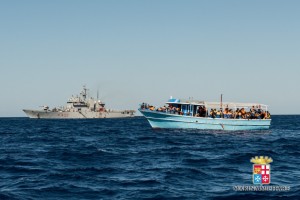 And it wasn't just the mult-use assets that got attention–Even their "top-tier" combatants–the Italian submarine force–got into the act:
Italy's navy said Thursday it had arrested 16 suspected people smugglers in the Mediterranean thanks to surveillance by a submarine during an operation that saved 300 immigrants.
That sort of positive exposure, day after day, is a public relations boon that pays off in appropriations and budgetary support. Certainly, times are tough; the Italian Navy probably won't get a huge bolus of money (like, say the U.S. Coast Guard after Katrina), but it won't be cut down to the bone (like, say, the Italian Army).
At any rate, the largely positive public reception of the Italian Navy's response to Mare Nostrom is worth studying. For the U.S. Navy, Mare Nostrom is something to ponder–as the American Navy works to de-emphasize their un-warlike "global force for good" image while deploying forward, shrinking the USN's already-small domestic footprint and pushing America's strategic frontier farther and farther away from the U.S. taxpayer, it's worth noting that nothing–well, nothing outside of a war–builds a Navy faster than a highly visible, competent response to an emergent domestic challenge.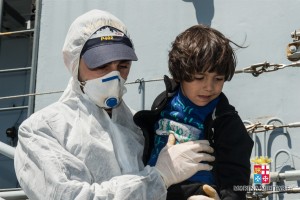 For the Italian Navy, Mare Nostrom came at exactly the right time. The 2010-2011 European economic crisis was extracting a brutal toll on regional militaries, and the Italian Navy was directly in cost-cutter crosshairs. From an AEI report:
In June 2012, Admiral Luigi Binelli Mantelli, navy chief, announced that some 26 or 28 vessels would be retired over the next half decade. And although new and more capable platforms will be added to the fleet, overall numbers will drop as the replacement vessels will not be 1:1 for those withdrawn from service. Indeed, to save the cost of decommissioning the ships, the government is looking to sell them at a discount to other countries or, even, to simply give them away.

Examples of the cuts include: reducing the submarine force from the current six to four (about half the number in 2001), dropping the number of new frigates to be bought from ten to six (leaving the total number of frigates at ten after seven or eight older frigates are pulled from service), cutting minesweepers from twelve to eight, and patrol boats from eighteen to ten. Moreover, plans for replacing the retiring carrier Garibaldi and amphibious transport docks with the much larger carrier Cavour and amphibious assault ships (LHDs) has been complicated by a reduced buy of F-35Bs and the freezing of the LHDs acquisition
Back then, I expected that this was just a starting point for many, many more cuts.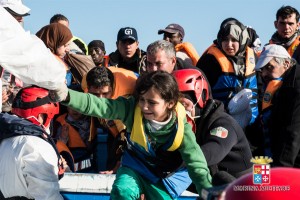 The hypothesis that successful, high-profile non-combat operations supports taxpayer largess remains to be tested, of course. But there are signs that Mare Nostrom has paid off–the Pattugliatore Polivalente D'Altura (PPA) procurement program is funded and proceeding apace, and, according to Defense News' great reporting, the Italians may sign contracts for another amphib and a logistical support vessel.
The Italian Navy has been smartly emphasizing the dual-use utility of their future vessels:
"…As budgets in Italy were being cut, the Navy stressed the dual-use functions of the patrol vessels, designing the light version of the PPA to assist in civilian emergencies and humanitarian missions as well as fight wars…The space under the flight deck is designed to host a temporary hospital facility, anti-pollution equipment or special operations equipment….For civilian operations, the vessel will be able to supply power and water for 6,000 people ashore….'
We'll see how it plays out. But I suspect Mare Nostrum, despite whatever the Operation's ultimate legacy becomes, will be marked as a place where the Italian Navy stepped up, did good work for the nation and made Italians proud.
And that, at the end of the day, is kinda what a Navy is all about, right?