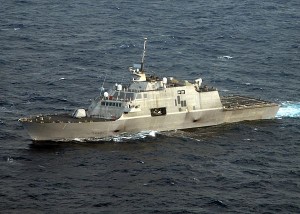 Giuseppe Bono is one of those crafty elders of the shipbuilding community, so his recent interview in Defensenews.com, conducted by Tom Kington, is worth a closer examination. It is one of the more interesting salvoes in a brutal FFG(X) marketing frenzy.
Now, Fincantieri is in something of a complicated spot regarding the future frigate bid. They're going alone, bidding a FREMM variant as prime, while simultaneously bidding an updated variant of the Freedom Class that Lockheed is priming. Neither platform is currently favored to win the FFG(X) competition. And that, well, dear reader, leads to what can only be politely characterized as, um, a tense relationship. How tense?  Well, no CEO that is a member of a happy manufacturing team–a junior member, no less–ever expresses the following sentiment in public:
"…Lockheed Martin was picked as prime contractor although it supplies the electronics, but did not have experience of ship building. Design work was given to Gibbs & Cox so the yard built a ship designed by a firm which did not know the capability of the yard. This created a situation where the government's contact on the program was not the yard building the ship — which is the case elsewhere in the world, and has been the case in the U.S. on other ships. The yard knows what the day to day problems are what modifications are needed. In my long experience, I have learned that the platform builder needs to be in charge, both in naval and aeronautics…"
And then, as if to rub some salt in the wound (or to assuage his shocked PR Team), he adds, wryly:
"…That said, the LCS is a great ship and we are working well with Lockheed Martin."
Ouch. Not only is that just, well, factually wrong, it's…it's a primal scream from the Freedom Class team that things are pretty bad. (I mean, Lockheed owned a shipyard until 1988, where they built icebreakers, frigates and sub tenders! They built the Sea Shadow and the….oh nevermind.)
Things are bad.
How bad?  Well, the long-lead materials for Saudi Arabia's four ship Multi-Mission Surface Combatant–the platform that Lockheed is going to use to absorb FFG(X) design costs and employ as risk mitigators for the design–were just awarded, and Lockheed, according to the vaunted journalists at Inside Defense, "has not announced the U.S. shipyard where the ship will be built."  Since when has the Navy awarded long lead materials with the shipyard of choice in public limbo?
So the relationship is obviously pretty tense, emotions are high, and, heck, if we want to be stereotypical, Italians are more emotional in the public discourse. Fine. The team can absorb an unfortunate public outburst or two.
But it's also a sly kick at a platform (and team) that Mr. Bono simply does not want to see win.
What the Italians really want–what every FREMM operator really wants–is for the FREMM to win here. That's fine too–the FREMM is a great ship design and the platform offers some interesting strategic opportunities. But Mr. Bono's outburst–while emotionally gratifying–was ill-advised. You see, the Italian government owns 71.6% of Fincantierei, so–even though the Italian government's stake is "silent", it is unclear to U.S. observers if Mr. Bono was speaking as a foreign agent, trying to shape the FFG(X) or speaking as a fired-up CEO, trying to get the best deal for his company.
Foreign Ownership, Control and Influence regulations are pretty clear that foreign-owned corporate parents need to leave the marketing/influencing work to their independent, American subsidiaries. Yes, Foreign Ownership, Control and Influence (FOCI) regulations have their annoying and overdone aspects, but these things are put in place to protect America–and American regulators have taken a decidedly protectionist turn of late. Be smart and stay above the fray–lest certain folks at 1600 Pennsylvania Avenue start wondering what might happen if the Italian government changed leadership and suddenly decided it really didn't want to be in the business of building ships for the U.S. Navy.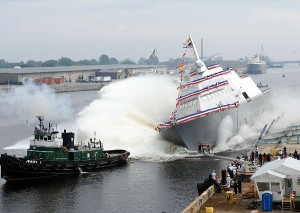 The Perils of Dual-Bids:
The competition-loving Pentagon (and, for that matter, some in industry) haven't really thought through the perils of multi-bid schemes. At the end of the day General Dynamics NASSCO and General Dynamics Bath are General Dynamics, and when NASSCO and Bath bid for the same hull–as they did for Offshore Patrol Cutter–it smacks of, well, anti-competitive double-dipping.
As I have written before, what's to stop a multi-yard entity like Edison Chouest from splitting their yards up into little low-cost subsidiaries with each one bidding a different model/design?  FAR-jockey legal-eagles may disagree about the likelihood of this sort of strategy, but I am a firm believer in allowing big multi-entity conglomerates one prime bid–and one bid only–for major contracts. This isn't exactly the case with the FFG(X), but it's something to consider in the future.
Team-Priming is a little more interesting and a bit more complex. Several companies–Fincantieri, General Dynamics and Lockheed Martin–are all serving as both primes and critical team-mates for the FFG(X) competition. That's fine and good. Companies do this all the time. But my sense is that some of these teams have spent little-to-no time thinking about employing teaming relationships as a PR tool to help tamp down on negative marketing–the kind of marketing that risks dragging down the entire FFG(X) concept.
Certainly, part of any bid process involves kicking dust on competing designs and partners, but…when disagreements on frigates or other platforms that are largely–and by necessity–the "product of unhappy compromise" spill into the public domain, it not only puts partnerships at risk, but it also endangers the whole program/concept. As a concept, LCS sank, in part, under the weight of negative marketing by spurned competitors and dueling rivals. And that's where the industry partners–and possibly the Pentagon–should do some thinking about establishing some running rules.
I mean, take this interview. Giuseppe Bono–a canny strategist who knows exactly what he is doing–clearly slags the Freedom Class team in favor of his bid, the FREMM. At what point does that aggressive marketing compromise the Freedom Class team? Do you think they can work together well after such comments? Does the potential for friction introduce inefficiencies that ultimately damage the product offered to the Government?  My sense is that this sort of thing does have a material impact upon the ultimate product.
But the government can't easily regulate speech. Contract lawyers, however, certainly can. If FFG(X) Primes failed to include riders limiting negative corporate marketing by their other corporate team-mates/competitors, then, well, they're just not doing their job.