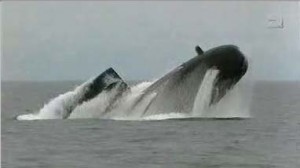 Conventional sub buyers have a lot in common with those pesky teenagers who think, in an iPhone 6 era, it's tremendously gauche to rock a lowly iPhone 4.
Computer guru Steve Jobs could have mined the arms business for ideas on how to build out Apple's retail empire. Conventional sub vendors learned long ago that the "newest" and most "shiny" high-tech baubles sell for premium prices, even though, for most consumers, basic gear–a submersible equivalent of an iPhone 4–or a truly "obsolete" flip phone–does the job just fine.
For the sub market, the pressure to "upsell" is a great business model that needs disrupting.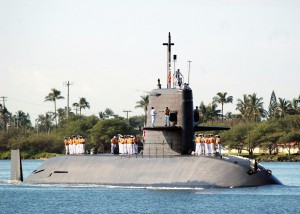 Excellent Pushes Aside "Good Enough"
Look. With global ASW skills in steady decay, why bother to pay premium prices for the acquisition, maintenance and training of a high-tech, top-of-the-line SSK when a lightly modernized (or simplified) Type 206 can do a fine job?  If rigged to be simple, basic and no-frills, an export "flip phone" sub "For The Rest Of Us" will cost less to operate and probably be available far more often than the latest-and-greatest Type 212 or Type 218.
It makes certain sense. But for the discerning SSK customer, the frothy buzz of owning the latest tech always outweighs the raw suitability of the platform for a sub's primary wartime mission–a mission which is, if I recall correctly, sinking stuff.
(And yes, before my friends in the sub community start leaving snide comments, I get the arguments that new tech often offers greater utility, better reliability and, yeah, stealth and so on. For subs, AIP is good, and better than old-school diesel-electric pig boats. I get it. Give me some credit–As a former marketing guy, I have a fair understanding of defense marketing arglebargle.)
Yes, subs do a lot more than sinking stuff.  But consider cell phone evolution. That old, abandoned flip phone was optimized for talking. And who, these days, actually talks to anybody anymore? On their cell phone?
It's just that, most of the time, only real power-users–ones who value subs primarily for their ancillary intel-gathering and covert roles against really sophisticated operators–require the latest "iPhone 6-level" kit (a nod to, say, Israel, here). And, frankly, only real power-users understand how to effectively use what they have. The rest flail, fail, call their tech reps, and ultimately end up going to sea with dark consoles.
Until global ASW gets far, far better, the basic "can full of torpedoes" are all that most countries need.
Study the record. Basic "torpedoes-in-a-can" subs have done quite well for themselves.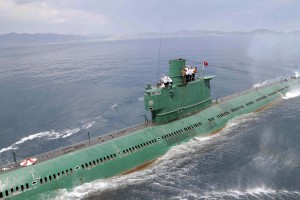 Ancient "Flip Phone" Subs Do Just Fine:
First, look at North and South Korea. South Korea–boasting a comparatively large sub fleet and an active ASW threat–should have had their northern maritime border wired for sound long ago, but, somehow, aged North Korean minisubs have been able to penetrate far (far!) south. And let's not forget the ROKS Cheonan (PCC-772)–sunk by a decidedly "low-tek" Yono Class minisub. As I wrote back in 2010:
…North Korean submarines (and their smuggler-oriented surface ships) are the only Northern platforms that have a record of entering South Korean (and, for that matter, Russian, Japanese and Chinese) coastal regions undetected.

North Korean subs have a long operational history. In 1996, one NK sub ran aground while picking up a North Korean infiltration team, and in mid-1998, while returning from a successful infiltration, a second mini-sub got tangled in fishing nets. The next month, in July 1998 , a dead commando was found near a 5-man submersible infiltration boat, and in December of that year, South Korean patrol craft caught and sank a North Korean mini-sub near Yeosu (which is…ahh, south of Busan!) And then there's the Cheonan sinking of 2010. Without a doubt, North Korean subs have proven themselves capable of penetrating South Korean territory–far into South Korean territory….
And those are only the ones we know about. How many missions went undetected?
Now, let's turn to Indonesia's Cakra Class Type 209's. During the 1999 East Timor crisis, these undersea boats had been in commission for almost twenty years. And yet, the threat posed by a two old Type 209 subs helped force the INTERFET coalition to go into full defensive crouch–deploying 13 surface combatants (A U.S. Cruiser and then…lots of stuff to protect the cruiser and amphibious units) and…more than a couple of subs and P-3s and god knows what else). Sure, I'd wager that Indonesia's Type 209 wouldn't have lasted long had it fired at somebody, but, still, the mere threat of torpedoes-in-a-tube raised the pain level to the point where Operation Warden became a far more costly event than was necessary.
And finally, consider the Falklands. Again, two aged Argentine subs (ARA Santa Fe (S-21) was 38 years old, and ARA San Louis (S-23) was a more modern, nine-year old Type 209 whose crew couldn't operate well enough to be effective) extracted a huge operational and materiel cost from the UK Navy–competing against an SSN-equipped force that, at the time, was considered the epitome of ASW prowess.
For all the high-tech hubbub, those "flip-phone" subs still made themselves heard.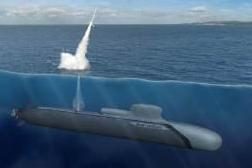 Put Conventional Warfighting First:
All the over-ambitious "demand" for fancy "iPhone 6-level" SSK tech is partly a symptom of the submarine's dilution into an irregular warfare-oriented, missile-shooting, multi-mission intel-gathering machine–coupled with the fever-dream that operators will, one day, embarrass a U.S. CVN while drawing a bead on a passing SSN after launching ground attack missiles and saving a drowning migran…you get the idea.
Yes, subs have always been strange and secretive tools of unconventional warfare.
Subs have always been pushed to conduct missions beyond the old-fashioned "sighted-ship-and-sank-same" work. Lots of folks forget that that the World War II-era subs that helped strangle Japan did good service tending Coast Watchers and supporting commandos. But that doesn't mean subs built "For The Rest Of Us" need tons of silencing and high-tech gear to do that (You know, old-school "flip phones" could, if pressed, send text messages). For most SSK customers, most of the primary unconventional warfare targets (neighboring states and non-state entities) don't have strong ASW assets (and those that do don't know how to use what they have). Maybe, someday, terrorists, pirates, smugglers and separatists will start deploying (and monitoring!) SOSUS nets, but I suspect that day is quite far off.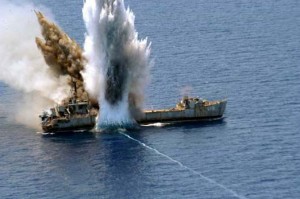 The primary mission for a simple "For The Rest Of Us" sub–is a simple mission that has…largely been forgotten (or, at best de-emphasized). Subs are primarily meant to sink stuff. That's their job.
I don't see big sub exporters catering to that basic requirement–instead, Germany, Sweden, France, Spain–even Russia–are taking their own far more sophisticated non-warfighting requirements (growing out of higher-end intel-gathering challenges of Baltic Sea operations old-school sub-vs-sub NATO missions; or, in the case of France, patrol requirements to secure dispersed global holdings) and projecting them upon over-eager buyers. You know, buyers who are consumed with overambitious visions of participating in high-end, ultra-sneaky missions that just aren't going to happen.
You can't blame sub-builders for that–they're just exploiting basic consumer behavior–just like the Krupp family once did and Apple does today.
But it's time–at least for the long-term health and security of challenged places like Taiwan, Vietnam, the Philippines and elsewhere–to refocus on the export basics–and develop a really bare-bones, simple, tiny-crew and easily-serviceable undersea craft capable of sitting quietly on the sea-floor until they're called up. To sink things.
I don't know what that might be. A U.S. sub built on Barbel Class lines? Or a sub of obscure Yugoslavian/North Korean lineage? A Chinese Yuan Class Type 039A? A Chilean Crocodile? I don't know. But I know this. It sure ain't going to be a Type 218. That is just too much sub for the ever-growing mainstream consumer sub marketplace to successfully absorb.
The Challenge:
So my disruptive challenge for the U.S. Defense industry is this: Sell that submersible equivalent of the flip phone.
Get to it. Grab your youngest designers, put them into a spin-off shell corporation, tell them to forget their mil-spec heritage and given them a month to design the easiest-to-build, lowest-cost, no-frills, civil-spec "torpedoes-in-a-can" sub possible. And if the U.S. Government approves, you'll make a fortune–either selling the sub or selling the ASW gear and training needed to beat your retro flip-phone-esque "For The Rest Of Us" sub.