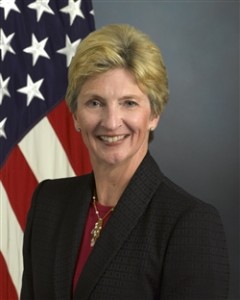 Look, I've been a big cheerleader for SECNAV Ray Mabus getting a full bench of rough-and-tumble Navy Department Managers, and an advocate for increasing the proportion of females working in defense leadership roles, but enough is enough.
As Defense News' Chris Cavas hints, it is high time for the long-stalled nominee for Navy Undersecretary, Jo Ann Rooney, to withdraw, and to let somebody else have a chance at the post.
And the White House should get off it's fanny and expedite getting another nominee to Congress.
Time is a'wasting. Robert Work has demonstrated that the Navy's "Number Two" post can be a developmental position, a "Springboard" where future defense leaders cut their bureaucratic teeth before moving on to future defense leadership opportunities.
And the White House staff, rather than frittering for a year, working to find and vet "boutique" female appointees for defense spots (which–compounding the problem–the White House Staff hasn't done well), should grit their teeth and nominate folks (even relatively unconventional nominees who have future leadership potential) to get their open positions filled. They need to shift focus and nominate those who can do the Democratic Party good service over the long-term as defense leaders. The time for social engineering at the appointee level is over–President Obama has won his second term, so, honestly, he can put aside some of his campaign commitments (like he's done with, say, Guantanamo).
With Jo Ann Rooney, it is time to end the flawed nomination and nominate somebody. Anybody. Heck, at this point, the Democratic equivalent of a Ham Sandwich could quickly get nominated–if only to put this sorry Jo Ann Rooney episode in the rear view mirror.
Look. Right now, the White House should be racing–racing–to fill open appointee slots at the Pentagon. Every single open post should have a name attached to it by now. Instead, the White House….is operating in slow motion. It takes a year to nominate somebody, then it accepts Congressional slow-rolling of the nominee, and then lets folks sorta…fester in nominee limbo. That's not right for the nominee
It's also not good for the Democratic Party.  And, frankly, the Nation.
The Democratic Defense community is starved of voices, and the Democratic Party–for it's own long-term health–needs a wider set of views than are available from the two somewhat warring (Frienemy-esque?) camps of Democratic Defense Expertise–the Camp Obama Pragmatists and the Hillary Clinton enthusiasts of the Samantha Power "Responsibility To Protect" school or the understated Michele Flournoy "My Mission is the QDR" uh, movement.
The Democratic Party needs more adherents with solid Defense experience, and you sure as heck don't build that body of experience by letting open political appointee slots go unfilled– because somebody at the White House–like Valerie Jarett–is pushing the President's mandate to grow the ranks of female Defense appointees in an unhealthy, unsustainable fashion.
It's time to put idealism aside and be pragmatic. With Defense still seen as a underlying Democratic Party weakness, the goal for Democrats should be in building a thriving, vibrant community of competent leaders. And that means filling ALL THE REMAINING PENTAGON APPOINTEE SLOTS ASAP. Regardless of sex, race or recorded Obama/Clinton affinity. It does the Party good to have Democrats appointed in positions where they can either wield their newly-established defense "cred" or positioned to burrow into the Pentagon bureaucracy so they can build a better power-base within the building. In the long-term, that'll be how you change the nature of the place. That's how you'll see more females entering into the Defense Department ranks.
And, despite my hopes that we could tolerate a non-traditional Navy Undersecretary, the continued hopeless support of Jo Ann Rooney ain't helping–she lacks the charisma to develop as a defense leader, and certainly lacks the grit needed to shepherd her hearing through to a favorable completion.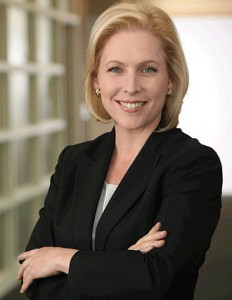 Put bluntly, this nomination should have been pulled the moment Jo Ann Rooney failed to appropriately respond to up-and-coming Senator Kirsten Gillibrand's (D-NY) challenge (Even though some Democrats don't want to give Senator Gillibrand a win or any extra oxygen–she's a future Democratic party heavyweight regardless of what Senator Reid or Hillary Clinton may think). When Gillibrand jumped in, Rooney–after her anemic damage control effort–was done.
And if Jo Ann Rooney lacked the intestinal fortitude to withdraw to "spend more time with family", then surely Ray Mabus or Jo Ann's champion in the White House staff should step up and pop this non-functional trial balloon.
The Democratic Party needs a stronger voice in Defense policy. And, while it may be a painful process in admitting defeat and starting anew with a high-profile Pentagon nomination, the alternative of keeping the office empty, depriving some other Democrat a chance to build their defense "chops" is not an answer either.
Let's give Ray Mabus a full bench. The Navy and Nation need it.