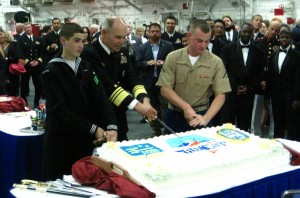 The Commander of the Third Fleet–and the tireless ringmaster of San Francisco Fleet Week ceremonies–Vice Admiral Richard W. Hunt, cuts the Navy Birthday cake with the youngest sailor and Marine aboard the USS Makin Island–in front of a hanger-deck packed full of San Francisco citizens.
This Admiral–along with the help of a great staff–really took a big gamble on supporting the San Francisco Fleet Week. He
sent some of his best ships to what–at least until now–was a moribund airshow accompanied by one or two U.S. vessels. VADM Hunt's confidence was crucial in putting the Fleet back into Fleet Week–and by doing this, I think, he galvanized the city (and boy do the ticket sales demonstrate that!) and re-opened this Port to accepting more frequent calls by naval vessels.
Vice Admiral Hunt was not just in town for a quick fly-in, fly-out visit. He was here for everything. Over the first couple of days, he presided as USS Makin Island was the focus of workshops and ceremonies for citizen-emergency responders. Over 6400 people toured the Makin Island on Saturday alone, and on the final day, citizens had to be turned away from touring the rest of the fleet. He was there for it all.
He didn't just stay on the ship. There were receptions, PR events, parades, photo-shoots, exercises all over the city. And the Vice Admiral was there for all of them (along with a few others–most notably the Coast Guard's Vice Admiral Manson K. Brown, Commander Pacific Area–who also matched his naval counterpart's constant presence; Marine Major General Melvin G. Spiese–who put the Marines back into Fleet Week; Rear Admiral Victor G. Guillory, Commander Fourth Fleet–who gave a fantastic presentation on the Navy's role in disaster response; Rear Admiral Robert P. Girrier, Commander Carrier Strike Group 11–who ventured out on his own and made a great hit with the public by circulating amongst the masses at the Air Show, and many, many others…). So while his sailors circulated around the city–often taking leave in uniform when they didn't have to–Vice Admiral Hunt did a great job re-introducing the Fleet to San Francisco.
Vice Admiral Hunt and his fellow leaders get it.
To remain relevant over the lean years ahead, the Navy and Marine Corps need to take steps to re-engage the urban areas that they've largely retreated from over the years–the New Yorks, the San Franciscos and other big cities. The
Admirals and Generals who showed up, made their presence known and participated–they get it. And I hope they are all given a chance to do even more on a far higher level in the future.