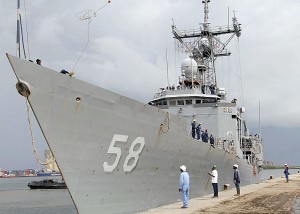 The current global crop of "conventional" frigates (which I loosely define as a multi-purpose combatant of somewhere in the vicinity of 2,000-4,500 tons), has reached something of a developmental dead end.
These ships cannot be improved–or, in the case of foreign models, brought into compliance with U.S. Navy standards and then improved–without a huge investment–An investment, I might add, that is totally out of proportion to any subsequent gains in the platform's overall combat capability/survivability.
Despite having more visible weapons than the average Flight 0+ LCS, the "international standard frigate" is also, well, still little more than cannon-fodder. Over the near-to-mid term, these "international standard frigates" the Navy chattering classes so admire, will, in any likely "local war under high-tech conditions", be sunk. And be sunk in great numbers.
Too small to do much on the modern maritime battlefield than get into trouble, these "international standard frigates" are too much of an attractive, vulnerable target to spend much time alone in a high-threat area. And yet, still, the American Taxpayer is about to be asked to pay one heck of a premium for something that doesn't really offer much more combat utility than the Flight 0+ LCS will (What will be added? A few VLS cells, with a fancy radar and combat system? A few anti-ship missiles? Maybe some torpedoes?).
Why even play in this niche? In the global arsenal, there is nothing–nothing–that really materially distinguishes one frigate model from the next. Excellent frigates have proliferated throughout the globe, and, as such, it makes little sense for the U.S. to play in this crowded evolutionary niche–if everybody has a great general-purpose sea-control frigate already, and they are all pretty fantastic…why bother?  The robust DDG-51–which is, I remind readers–the largest active class of combatant in the world–is far more survivable than any "international standard frigate" out there. The U.S. Navy might as well embrace that advantage.
Anybody stupid enough to try and compete in the frigate niche can only "win" by outbuilding everybody else. And anyone foolish enough to try and compensate for lack of numbers will end up making a disproportionate investment to obtain a tiny materiel "edge" on other frigates in the global fleet (Yes, NAVSEA, I'm looking at YOU). They'll end up with an awfully pricey, hard-to-maintain ship with absolutely no margin for growth. And if many of the current American advocates for a conventional frigate has their way, the U.S. will find itself saddled with an operationally fragile shipyard queen that is, in essence, obsolete at launch.
A better investment for the American Navy is an austere DDG-51s that can simply out-stick the current "international standard frigate" (and that I suspect can be procured for about the same price), supported by vessels that force development of technology that will fundamentally disrupt this fully-developed Frigate niche–i.e. miniaturized gear/weaponry and means to accelerate fielding of new gear/weaponry.
How do we do it?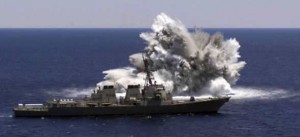 Devolve the "Cruiser":
First, the US should take our high-end DDG-51 — a cruiser-like platform that, despite an "old" hull and "outdated" plant, is the basis for our "next-gen" air defense asset, the "Flight III" Burke, AND…even without improvements, is still inherently more survivable (Level III, according to the latest regulations) than any frigate at sea today–and tweak it so that the platform just marginally beats the "international standard frigate". (I've written about this proposal here.) Make the DDG-lite "ready to fight tonight" but…make it austere, scalable and easily upgradable. Add whatever the Navy expects to need in basic Hull, Mechanical and Electrical qualities to keep the ship relevant over a 40 year lifespan, and then build in tons of margin for tactical flexibility and, if needed, new capability. Or just, simply, a bigger, battle-ready crew. A Marine Corps detachment. Whatever.
Look…The money the US Taxpayer will spend will be the same either way….Either the Navy pays upwards of a billion dollars for a specialized frigate hull–an unproven frigate hull that will demand a lot of money and be freighted with a lot of risk before it actually gets into the US fleet ("a rough order of magnitude cost estimate" says Lockheed's man, is $800 Million dollars for, oh, 32 VLS, a gun upgrade and a baby Aegis). And then, after DOT&E testers spend years "approving" it and tons of additional money gets spent for the platform to meet USN standards, taxpayers will be left with a hull that most observers expect to last only about ten years or so.  Either that….or…we take the DDG-51 alternative route, call it a "variant", and pay about $750 million dollars for a very well characterized, rugged DDG hull and a few hundred million for bare-bones GFE–that can enter the fleet quickly and arrive with 40 years of easily-upgradable life left in it (and a heck of a lot of cost-saving commonality within the existing legacy fleet as well).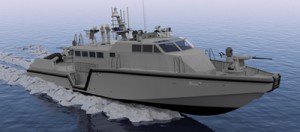 Embrace the Small Boat:
Second, America should go low-end. That's right. America should go "all-in" on the Captain Wayne Hughes Seafighter model–I'm talking Mark VIs up to Ambassador IIIs at the most.
Now…this is a big change for me. Most of you are probably very weary by now of me poking holes in the Naval Postgraduate School's "School of the Tiny Combatant". But now that MLP/AFSB concepts seem to be accepted by the fleet–my concerns about logistics are receding.  MLPs and AFSBs are going on-line, so why doesn't the Navy try to fully kit 'em out with small combatants and see that these new floating "bases" live up to their full potential?
I think "tiny" is the way to go right now. Small ships–boats–are easier to build quick, test, trial and then, if needed, discard. They are innovation-drivers. And they are, programmatically, far, far, FAR easier for the Navy to manage given the current environment in Congress. (and they can get into small, less-visited ports, carry a low profile, operate in company of an MLP without the need of a high-footprint support base on shore, compete with small boats and fishermen/coast guard "irregulars", and screen the bigger ships)
And, unlike your average "International Standard Frigate," small ships are also a lot harder for your average SSK or other high-end combatant/operator to waste a precious torpedo or missile upon (and, I might add, a very good fit for the WESTPAC areas where we are likely to be challenged over the near-term).
Small ships don't become self-sustaining, programmatic monsters either. So rather than the Navy taking the risk of being tied to a single 3,000 ton platform, and, in the process, creating an economic monster that Congress will demand "must be fed at all costs", the Navy can keep tiny-ship "test and trial" programs small enough (and geographically distributed enough) so that the Navy–rather than Congress–runs 'em.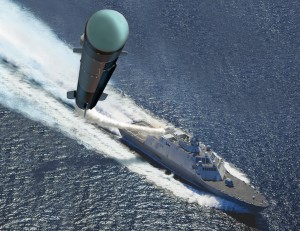 Miniaturize, Miniaturize, Miniaturize:
And then, well, the U.S. should pour money into the challenge of miniaturizing combat capability–capability that can then flow onto larger programs–platforms, like, say, a more militarized and high-sea-state capable Offshore Patrol Cutter (which makes sense given that the center of strategic importance will, in time, likely shift to the more wild waters of the Polar seas and away from, say, reefs off the Philippines).
America cannot go wrong in shrinking the "effectors" and by making the sensors smaller, and, if possible, scalable (Like, say, Raytheon's Air and Missile Defense Radar (AMDR)).
I'm a big believer in urging industry to "chase" a well-defined requirement rather than building platforms to fit existing weaponry. The strategy works–look at how the LCS surface-to-surface missile went from the failed non-line-of-sight rocket to the Griffin, to now, the more capable Hellfire. Once industry knew what the parameters for the LCS "box of rockets" actually was, they responded. And…mark my words, more advances are on the way to expand the utility of teeny-tiny missiles. (and teeny-tiny torpedoes, too)
If industry is directed to really focus on driving size out of the equation for the "traditional" missions–Anti-Air, Anti-Surface, Anti-Sub and Anti-Mine warfare–and getting them to work in a dispersed Small Boat framework–and then, on top of that, mix in the potential contributions the JHSV and basic Block 0+ LCS will be making in advancing new gear and tactics–then America has a chance to really disrupt conventional frigate niche in about ten years or so–right when the sail-like-a-cork, ready-for-Polar-waters Offshore Patrol Cutter enters service in earnest.
With smaller boats flying off from an in-theatre MLP tender/logistical support node, the U.S. Navy can cover a lot more ground, flow-in more new tech, engage more navies–all while giving their lower-ranking sailors an opportunity to get much-needed sea time. But to really help drive technology towards smaller effectors and sensors, small ships need to be out there, in numbers, operating.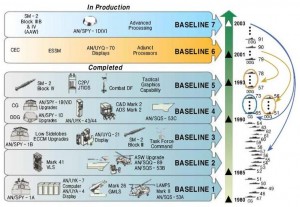 Rig For Rapid Deployment of New Tech:
Now, part of being "ready to fight (and win) tonight" is, historically, a factor of being the first to quickly bring new technology to the battlefield. Legacy "international standard frigates" are only optimized to fight yesterday's battles today. And while that may be comfortable to some, or offer up a serviceable developmental case if the Navy honestly intended to build a billion-dollar ship with a 10-year lifespan, it's just not a viable developmental path.
Really, it isn't.
American strategists underestimate the advantage of being able to quickly flow new capability into the fleet. In the old days, America would simply build it's way into new capability, but now that shipbuilding is too expensive and slow, the only other option is to change and update embarked gear…quickly.
Right now, the Navy (and industry) are far too slow. Exhibit A is Aegis (sorry Lockheed)…The fleet simply can't afford to spend twenty years "upgrading" a combat system–all the while, throughout the process, maintaining some, oh, twenty(?) different baselines of varying compatibility/capability. America needs "stuff" that can be rolled out to the applicable fleet/platform/task force in a year–or even less (CANES supporters abruptly look down, redden, throw a few bucks down on the bar and walk out).
America underestimates the impact a fundamental change in combat capability will have on likely competitors. Imagine if, in the space of a year, the 52-hull LCS fleet developed a capability to deploy with strike missiles…competitors would need to completely adjust their tactics to handle this new threat. I mean, the modern Navy should be all about taking the John Boyd's OODA loop to sea to bamboozle and confound competitors who are a little less flexible. And so the American Fleet needs to make plug and play a reality–and the best way to really start doing that is in the small-boat/JHSV/legacy-LCS world.
In that way, America can have ships that are available quickly, that are relevant to today's fight, and yet open to the weaponry of tomorrow.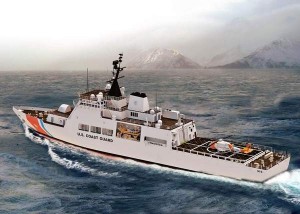 Conclusion:
In the near-to-mid term, America does not need to play in the 2,000 to 4,500 ton multi-purpose, high-survivability combatant niche. Even an austere Level III survivability DDG-51 trumps anything in the 2,000 to 4,500 ton weight-class, and the existing 10-ship JHSV/24-ship LCS fleet–combined with small PT-boat like craft operating from the local MLP/AFSB–can handle the outreach and small-harbor visiting role quite nicely.
When coupled with a real effort to drive down size of effectors/sensors and work in enabling rapid deployment of new tech across fleets and platforms, this grab-bag of platforms offers the right technical mix–flexibility to both test/trial new tech while wielding a goodly amount of immediately applicable combat capability.
New U.S. frigates are coming. If the rumors are true, then America has the makings of a fine baseline Frigate emerging from the Offshore Patrol Cutter program. So with the OPC advancing, there is no need to rush things or to waste precious time and resources fielding an entirely new frigate or in cramming old-school weapons into an LCS hull.
Instead, let's pour money into miniaturized weapons/sensors and invest in a means to speed onboarding of new tech throughout the fleet. Then, once the OPC is ready in a few years, and the bugs worked out at the Coast Guard, America can flow that new combat capability into the hull and make it that frigate everybody wants–a relatively small, cost-effective platform that actually is capable of outmatching all other comers in the vessel's weight class.  And maybe, just maybe, America will finally have a frigate-type combatant that can do more on a modern, complex battlefield than just getting into trouble and then dying quickly.