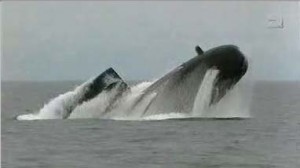 Future undersea attackers will become far less deterrable. That's a big shift–the idea that attacking submarines are deterrable has been enshrined in ASW Doctrine since World War I, and, even today, the idea that undersea attackers can be forced to break off their attack (or other mission) informs the resourcing and posture of ASW assets. But as humans cede the undersea domain to the robots, those robots are going to be far harder to deter.
A primary goal for many ASW practitioners (outside of oh, say, World War II hunter-killer groups and SSNs prosecuting SSBNs or SSGNs) has largely been to protect a defended asset. With that defensive goal in mind, deterring the attacking submarine became an acceptable goal–and one far more likely (and easier to achieve) than obtaining a confirmed kill. As long a the target was "neutralized", life was good.
Killing, of course, is always preferable, but any grizzled ASW warrior will tell you that it is far easier to unravel a sub's attack/mission than to kill it. Killing a submarine demands far more resources–more sensors, more platforms and more munitions–than many modern warfare planners care to realize.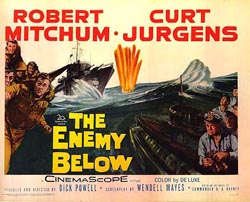 Gonna be less of a Psychological Game
The psychological aspect of submarine warfare is reflected–again and again–on the strong appreciation human factors can have upon submarine effectiveness. As the NATO Joint Air Power Competence Center's ASW doctrine from 2016 reminds us:
"One man–the submarine commander–can have enormous impact on the capability of that lone submarine."
Psychology counts–despite all the technology, undersea warfighters are still living in a "The Enemy Below" fairyland where gallant leaders like Lieutenant Commander Murrell matches wits with the equally gallant Kapitan-Leutnant von Stolberg. So a good bit of ASW is still built around "scaring" the undersea prey or or otherwise encouraging the offending sub to go "defensive" and depart from the sub's immediate mission to go and live–and attack–some other target on some other day. At some level, ASW techniques have been crafted to tax human tenacity as much as the undersea boat.
That "neutralizing" goal is economical and makes certain sense–but, today, the longstanding hypothesis that submarines can be deterred influences needs to be retested. The faith that undersea platforms are deterrable has become somewhat blindly accepted.
Faith in deterrability undersea informs far too much–everything from strategic defensive posture, force structure decisions, munitions design and sensor purchases. The warfighting community needs to do some hard thinking about what, exactly, is going to happen when undersea warfare platforms start defying the vagaries of human psychology and begin relying on cold, hard–and likely learning–algorithms. We just don't know what will happen.
Undersea platforms will certainly still be deterrable–even a machine will recommend a mission abort, or, possibly, reflect cautious biases of their programmers–but the defining line between caution and constant robotic derring-do will, in time, decrease. And, unless there is some incredible ASW technology out there that guarantees one kill per weapon, the world ASW community is not ready for undersea platform that reflect all the strengths of the most tenacious skippers and…none of the weaknesses.